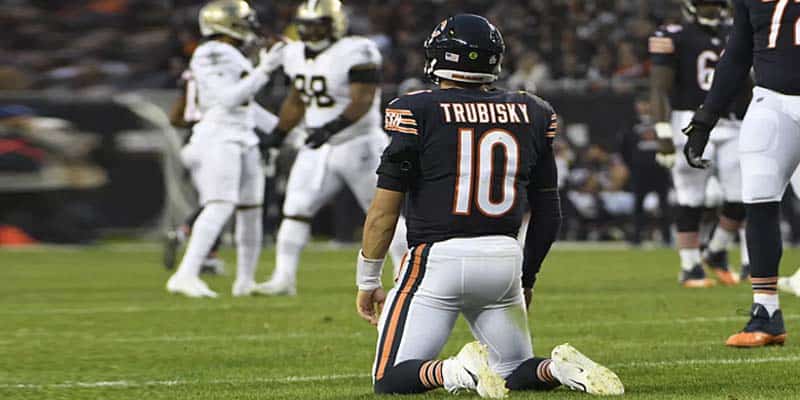 The Battle for the Bottom will take place on Thanksgiving Day 2019 when the Detroit Lions take on the Chicago Bears. While not the worst teams in the NFL, the two are playing hot potato with last place in the NFC North.
Both teams have one more game before their Turkey Day showdown. The 4-6 Bears will take on the New York Giants and the 3-6 Lions will play the Washington Redskins.
Four days later, the rivals will meet on November 28 for the Lions' annual Fat Thursday matchup. Assuming they both win this Sunday, Chicago and Detroit will still both be under .500 come kickoff.
We previously reported that the Atlanta Falcons would be manhandled by the New Orleans Saints and speculated that the Dallas Cowboys were too inconsistent to predict a win over the Buffalo Bills.
But given the disappointments in Detroit and Chicago, the other two games, coupled with a helping of mashed potatoes and gravy, will be welcomed distractions.
Entering the 2019 season, the Bears were expected to turn the corner and compete for a Super Bowl. Going 12-4 under QB Mitchell Trubisky and rookie head coach Matt Nagy in 2018 was just what the team needed to believe in themselves.
Unfortunately, Trubisky is not performing up to expectations and his receivers are not helping. The Bears lead the league in dropped passes so far this season.
As for the Detroit Lions, they are the NFL's version of canned cranberry sauce: always hanging around but only liked by the older generation. But in their defense, for 2019 at least, franchise QB Matthew Stafford has been out with injuries.
According to recent reports, Stafford could even be out the remainder of the season. Jeff Driskel has done a decent job filling in under center but the team is already too far gone to make the playoffs this season, especially with the Green Bay Packers (8-2) and Minnesota Vikings (8-3) dominating the top of the division.
As the odds currently stand, the Bears (+15000) and Lions (+50000) have no real shot at winning the Super Bowl this postseason. For a comparison of the entire league, see the list below.
Odds to win Super Bowl LIV
New England Patriots +275
Baltimore Ravens +450
New Orleans Saints +600
San Francisco 49ers +700
Kansas City Chiefs +900
Green Bay Packers +1200
Dallas Cowboys +1600
Minnesota Vikings +1600
Seattle Seahawks +1600
Philadelphia Eagles +2500
Los Angeles Rams +3300
Houston Texans +4000
Indianapolis Colts +5000
Oakland Raiders +5000
Buffalo Bills +8000
Cleveland Browns +8000
Carolina Panthers +10000
Tennessee Titans +10000
Pittsburgh Steelers +12500
Chicago Bears +15000
Jacksonville Jaguars +15000
Los Angeles Chargers +15000
Atlanta Falcons +25000
Denver Broncos +25000
Detroit Lions +50000
Tampa Bay Buccaneers +50000
Arizona Cardinals +100000
New York Jets +100000
New York Giants +250000
Miami Dolphins +1000000
Washington Redskins +1000000