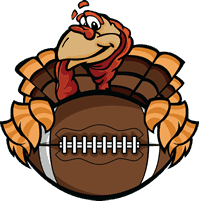 College football fans have plenty to be thankful for during the Thanksgiving holiday. Thanksgiving falls on Week 13 of the season and is the last week of the regular season for most schools.
The Thanksgiving football games are considered to be some of the best of the year because most are rivalry matchups. Most games include interstate rivals, while a few others pit conference heavyweights against each other.
For fans and bettors alike, NCAA Thanksgiving games are exciting matchups, and we've included information regarding all the games, including previews for some of the biggest games of the Thanksgiving weekend.
Top Rated Sportsbooks To Bet On College NCAAF Football Games On Thanksgiving
College Football Matchups On Thanksgiving Weekend
While college football does not have the same teams play each year on Thanksgiving Day like in the NFL, it does typically have one or two matchups on the holiday itself. However, all eyes will be on college football on Saturday, November 23 because of the conclusion to Rivalry Week.
Egg Bowl on Turkey Day
Ole Miss Rebels v. Mississippi State Bulldogs
Last year the Mississippi State Rebels whooped the Ole Rebels 35 -3. This year the Rebels will be out for revenge but the young team will have to play their best game of the year to beat the Mississippi State Bulldogs.
Odds:
Spread: Miss State -3, Ole Miss +3
2019 Rivalry Week Key Matchups
Ohio State Buckeyes v. Michigan Wolverines
The Ohio State Michigan rilvary runs deep. Each year these teams face off usually to determine what team could make a playoff bid. In recent years Ohio State has usually walked away with the victory. Ohio State looks really good so far behind the arm of QB Justin Fields.
Odds:
Spread: Ohio State -9.5, Michigan +9.5
Clemson Tigers v. South Carolina Gamecocks
Trevor Lawerence and the Clemson Tigers embarrassed Alabama in the National Championship game last year, and so far the young quarterback has not lost a college football game for his team. Unfortunitly for the Gamecocks he will probably put up career numbers if he stays healthy.
Odds:
Spread: Clemson -26, South Carolina +26
Alabama Crimson Tide v. Auburn Tigers
The Iron Bowl has become infamous since the kick return touchdown that that paved the way for Auburn's National Championship bid. The last couple of years Alabama has flexed their sport muscle on their in state little brother to the south.
Odds:
Spread: Alabama -4, Auburn +4
Texas A&M v. LSU Tigers
LSU said they were going to put up 50+ points a game and so far they have lived up to their expectations but finished just a few points short against Texas. Texas A&M has already lost a hard fought game against Clemson and their schedule is not favorable for them to win out. This rilvary game will have huge implecations for both teams.
Odds:
Spread: LSU -17, TAMU +17
Thanksgiving Weekend College Football Game Schedule – Rivalry Week
THANKSGIVING DAY, NOV 22, 2019
Ole Miss at Mississippi State
FRIDAY, NOV 29, 2019
Texas Tech at Texas 
Iowa at Nebraska 
Missouri at Arkansas 
Boise State at Colorado State
West Virginia at TCU
Washington State at Washington 
Appalachian State at Troy 
Bowling Green at Buffalo
Cincinnati at Memphis
Kent State at Eastern Michigan
Miami (OH) at Ball State
South Florida at UCF
Toledo at Central Michigan
Virginia Tech at Virginia
SATURDAY, NOV 30, 2019
Ohio State at Michigan
Florida International at Marshall 
Middle Tennessee at Western Kentucky 
New Mexico State at Liberty 
Charlotte at Old Dominion 
Wyoming at Air Force 
UNLV at Nevada 
Rice at UTEP 
Southern Miss at Florida Atlantic 
UTSA at Louisiana Tech 
UAB at North Texas
Utah State at New Mexico
BYU at San Diego State 
Army at Hawai'i 
Alabama at Auburn
Arizona at Arizona State
Arkansas State at South Alabama
Baylor at Kansas
Boston College at Pitt
California at UCLA
Clemson at South Carolina
Colorado at Utah
Florida State at Florida
Fresno State at San Jose State
Georgia at Georgia Tech
Georgia State at Georgia Southern
Iowa State at Kansas State
Indiana at Purdue
Louisville at Kentucky
Maryland at Michigan State
Miami at Duke
Navy at Houston
North Carolina at N.C. State
Northwestern at Illinois
Notre Dame at Stanford
Oklahoma at Oklahoma State
Oregon State at Oregon
Rutgers at Penn State
Texas A&M at LSU
Texas State at Coastal Carolina
Tulane at SMU
Tulsa at East Carolina
UConn at Temple
UL Monroe at Louisiana
Vanderbilt at Tennessee
Wake Forest at Syracuse
Wisconsin at Minnesota