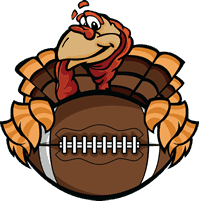 Watching NFL games while eating dinner with loved ones on Thanksgiving Day has been something millions of people have celebrated, and families all around the country take part in this tradition each year.
In addition, betting on Thanksgiving Day NFL games is popular because it is a great way to settle those arguments with family members that happen every year.
It is our goal to give you the betting edge against that family member and provide you with information on where you can legally bet on Thanksgiving Day NFL games.
Top Rated Sportsbooks For Betting On NFL Thanksgiving Day Football Games
Our team of industry analysts has put together a list of the best football betting sites for NFL Thanksgiving Day games. These sites have been screened for legitimacy, regulation, security, customer support bonuses and more. Our list of recommended football betting brands includes the best viable options for bettors looking to place a bet online for this year's Thanksgiving matchups.
2018 NFL Thanksgiving Day Matchups And Betting Odds
Chicago Bears @ Detroit Lions – Bears won 23-16
Point Spread: -4.5 Bears, +4.5 Lions
Over 45 (-115)
Under: 45 (-105)
The Bears had only three and a half days to prepare and did not have injured starting quarterback Mitchell Trubisky, but none of that mattered. Chase Daniels threw two touchdown passes, the Bears defense mauled the Lions, and the team left Detroit with an even bigger in the NFC North.
Washington Redskins @ Dallas Cowboys – Cowboys won 31-23
Point Spread: -7.5 Cowboys, +7.5 Redskins
Over: 40.5 (-110)
Under: 40.5 (-110)
Wide receiver Amari Cooper showed everyone why the Cowboys traded a first-round pick to the Raiders, burning the Redskins defense with 8 catches, 180 yards, and two touchdowns. With the win, the Cowboys move into a first-place tie atop the NFC East with the Redskins.
Atlanta Falcons @ New Orleans Saints – Saints won 31-17
Point Spread: -13 Saints, +13 Falcons
Over: 59 (-115)
Under:  59 (-105)
Drew Brees threw four touchdown passes and the Falcons could not hold onto the ball, fumbling five times while on offense and losing three of the fumbles. The Saints breezed past their division rivals, extending their win streak to 10 games and sit firmly in first place in the NFC South.
Summary
Since 1989, the favored teams have gone on to win their respective game 64% of the time. This year's favored teams could fall in line with that trend, but we will update you with our take once the Thanksgiving Day NFL betting lines come out.
Resources: 
Thanksgiving Day Articles At NFL.com
There are also some great college rivalry matchups over the weekend.  Check out our Thanksgiving College Football page for previews on those matchups and betting odds.
You can also check out our page for all Thanksgiving Football betting odds.