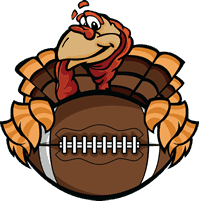 Watching NFL games while eating dinner with loved ones on Thanksgiving Day has been something millions of people have celebrated, and families all around the country take part in this tradition each year.
In addition, betting on Thanksgiving Day NFL games is popular because it is a great way to settle those arguments with family members that happen every year.
It is our goal to give you the betting edge against that family member and provide you with information on where you can legally bet on Thanksgiving Day NFL games.
Top Rated Sportsbooks For Betting On NFL Thanksgiving Day Football Games
Our team of industry analysts has put together a list of the best football betting sites for NFL Thanksgiving Day games. These sites have been screened for legitimacy, regulation, security, customer support bonuses and more. Our list of recommended football betting brands includes the best viable options for bettors looking to place a bet online for this year's Thanksgiving matchups.
2019 NFL Thanksgiving Day Matchups And Betting Odds
Chicago Bears @ Detroit Lions
Over: 38.5 (-115)
Under: 38.5 (-105)
Spread: Bears -1.5 (-105)
Money Line: Bears (-125), Lions (+105)
The Bears will travel Detroit for an early game on Thanksgiving day 2019. Kickoff is scheduled for 12:30pm. Both teams have gotten off to a rough start but by week 13 we should know if this game will have possible playoff implications.
Buffalo Bills @ Dallas Cowboys
Over: 44.5 (-110)
Under: 44.5 (-110)
Spread: Cowboys -7 (EVEN)
Money Line: Cowboys (-300), Bills (+250)
The Cowboys have started their 2019 season just the way Jerry invisioned, 2-0. If the Cowboys stay healthy the Bills will have a hard time keeping up with Dax Prescott and his offensive weapons.
New Orleans Saints @ Atlanta Falcons
Over: 49 (-110)
Under: 49 (-110)
Spread: Saints -7 (-105)
Money Line: Saints (-300), Falcons (+250)
Drew Brees was injured in week 2 of the 2019 season. Doctors estimate he will be back on the field in 6-8 weeks, just in time to defeat the Falcons. The Falcons got smacked in week one but bounced back in week two. If Brees is back, the Falcons will have a hard time fighting off the Saints at home.
Summary
Since 1989, the favored teams have gone on to win their respective game 64% of the time. This year's favored teams could fall in line with that trend, but we will update you with our take once the Thanksgiving Day NFL betting lines come out.
Resources:
Thanksgiving Day Articles At NFL.com
There are also some great college rivalry matchups over the weekend. Check out our Thanksgiving College Football page for previews on those matchups and betting odds.
You can also check out our page for all Thanksgiving Football betting odds.