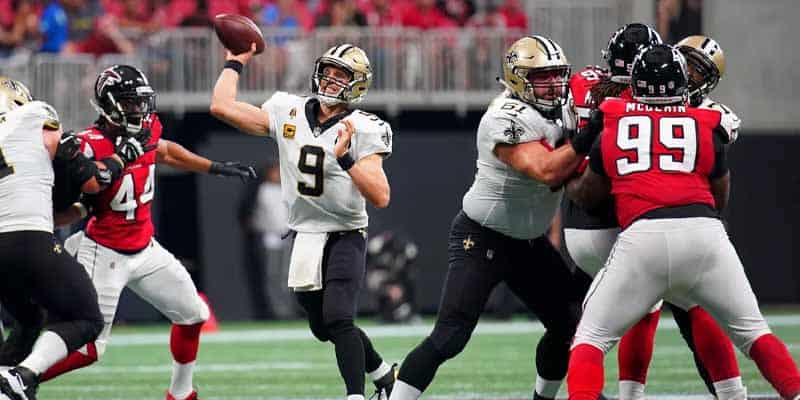 Turkey Day has not given the Falcons much to be thankful for historically.
Holding a 1-2 record in Thanksgiving games, the Atlanta Falcons lost their most recent Fat Thursday duel in 2018 to NFC South rival New Orleans Saints 31-17.
The Falcons (1-5) and the Saints (5-1) will rematch this Thanksgiving, playing in the 8:20 pm ET primetime game slot in 2019.
When it was revealed in April that the two teams would play on Thanksgiving, fans of the National Football League might have expected a meaningful showdown between two NFC Championship favorites.
But leading up to the November 28 game, it appears that the Saints are the NFC's main course while the Falcons are Aunt Delanor's Jell-O salad hidden in the back of the fridge.
While the odds for the Thanksgiving NFL matches are not yet available, the Super Bowl LIV odds tell us plenty about what we need to know next month.
The Saints have +700 odds to win the Super Bowl this season, second only to the New England Patriots and their +275 odds.
The Falcons, however, only have +15000 chances of winning the title. These are the same odds as fellow NFC Southers Tampa Bay Buccaneers, the New York Giants, and the Tennessee Titans.
Odds to win Super Bowl LIV
New England Patriots +275
New Orleans Saints +700
Kansas City Chiefs +800
San Francisco 49ers +1000
Green Bay Packers +1200
Baltimore Ravens +1600
Philadelphia Eagles +1600
Seattle Seahawks +1600
Houston Texans +2000
Los Angeles Rams +2000
Carolina Panthers +2500
Chicago Bears +2500
Dallas Cowboys +2500
Minnesota Vikings +2500
Buffalo Bills +3300
Indianapolis Colts +4000
Pittsburgh Steelers +4000
Cleveland Browns +5000
Detroit Lions +5000
Los Angeles Chargers +5000
Oakland Raiders +5000
Jacksonville Jaguars +6600
Arizona Cardinals +10000
Denver Broncos +10000
Atlanta Falcons +15000
New York Giants +15000
Tampa Bay Buccaneers +15000
Tennessee Titans +15000
New York Jets +50000
Washington Redskins +100000
Cincinnati Bengals +500000
Miami Dolphins +500000
All is not completely lost for the Falcons, though. Despite starting this season 1-5, Atlanta could join the 1970 Cincinnati Bengals, 2015 Kansas City Chiefs, and 2018 Indianapolis Colts as the only teams to ever make the playoffs after starting with such a poor record.
But it won't be easy for the Falcons, especially with their schedule leading up to Thanksgiving. Atlanta's next three opponents are the Los Angeles Rams, Seattle Seahawks, and the Saints on November 10.
The Falcons play the Carolina Panthers and Buccaneers in consecutive weeks before taking on the Saints again on Black Friday Eve.
Going 7-9 last year, the Falcons were expected to be healthy and compete for a division title this season. Instead, the team has been as lethargic as grandpa after his third serving of turkey.
Depending on Atlanta's next few games leading up to Thanksgiving, a loss to New Orleans on November 28 could seal their second straight sub-.500 fate.