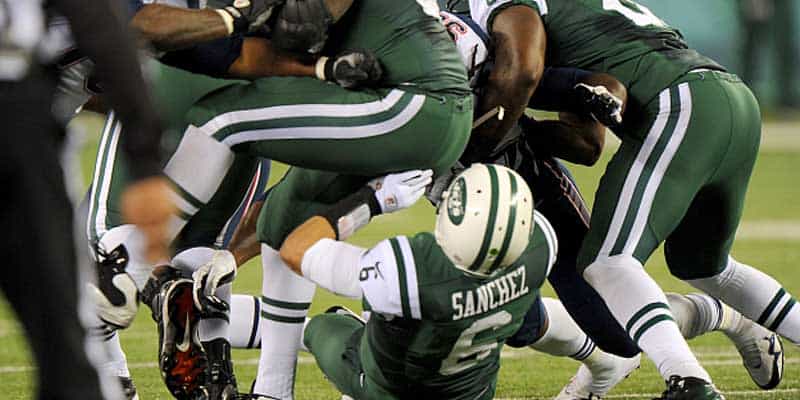 Thanksgiving Day has long been a facet of the National Football League season.
Known for the Dallas Cowboys and Detroit Lions hosting a game each year– with a third contest added in 2006 with rotating hosts– Turkey Day games have had their fair share of memorable moments.
Whether it's interesting facts, amazing play, or embarrassing moments, the NFL on Thanksgiving has seen it all.
Trivia
The Detroit Lions began playing on Thanksgiving in 1934 and have played on every Fat Thursday since, save for 1941-44 during World War II.
The Dallas Cowboys began Thanksgiving play in 1966. At the time, the Cowboys were still a part of the AFL.
The Lions have the most wins (37) and the most losses (39) on Thanksgiving. The Cowboys have the second-most wins at 30 and the Green Bay Packers have the second-most losses at 20.
The Jacksonville Jaguars are the only NFL team to never play on Thanksgiving Day. They shared this distinction with the Carolina Panthers until 2015.
The Tampa Bay Buccaneers and Cincinnati Bengals are the only teams to play on Thanksgiving without a win. Both teams are 0-1.
Of teams with more than one Turkey Day appearances, the Minnesota Vikings have the highest win percentage at .833 (5-1).
Noteworthy performances
Ernie Nevers of the Chicago Cardinals sets the record for the most points (40) scored by one player in a single NFL game.
Troy Aikman throws for 455 passing yards, the most ever on Thanksgiving, against the Vikings in 1998.
Peyton Manning throws six touchdowns for the Indianapolis Colts on Thanksgiving 2004, matching the Thanksgiving record set by Bob Griese in 1977.
O.J. Simpson rushes for the most yards in a single Thanksgiving game with 273 against Detroit in 1976.
Jim Benton sets the Turkey Day receiving record at 303 in 1945.
Gaffs
After the Cowboys blocked a late-game field goal by the Miami Dolphins in their 1993 showdown, Dallas's Leon Lett slid into the swatted ball, knocking it forward and making it a live ball. As a result, the Dolphins recovered and made their next field goal to win the game.
Entering the overtime period of the 1998 Thanksgiving game between Pittsburgh and Detroit, Steelers RB Jerome Bettis called both heads and tails as the coin flip was in the air. The ball was given to Detroit who won on a subsequent field goal. Since the fiasco, teams must choose heads or tails before the toss.
As one of the most infamous plays in NFL history, QB Mark Sanchez of the New York Jets ran into the back of his own lineman and lost the ball during Thanksgiving 2012. It was subsequently recovered by the New England Patriots for a touchdown. The play became known as the "butt fumble" and is regarded as one of the worst plays in NFL history.