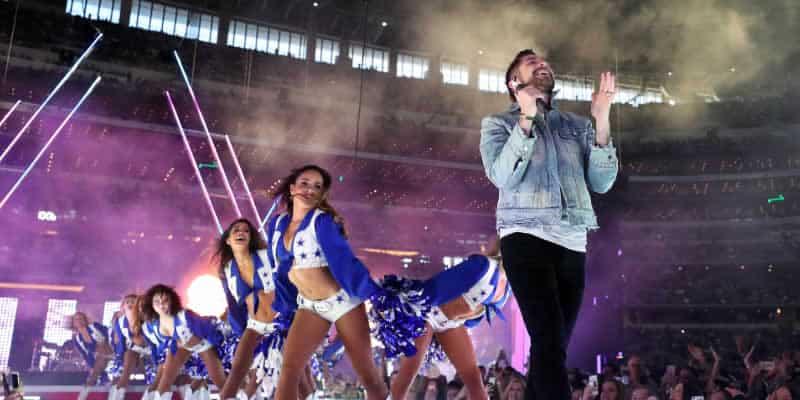 Country music star Thomas Rhett was announced to be this year's entertainment for the Thanksgiving Day football halftime show. Rhett will perform during the second game of the day, which features the Los Angeles Chargers at the Dallas Cowboys. The show will be nationally televised.
Rhett is an accomplished singer, recently winning the Academy of Country Music's Male Vocalist of the Year. He is excited to not only be a part of the NFL Thanksgiving football tradition, but to also play a part in the charity activity taking place. This game is the start of the Salvation Army's annual Red Kettle Campaign. All proceeds raised go towards shelter and food for the homeless, as well as Christmas toys for underprivileged children. The Red Kettle Campaign starts in Thanksgiving Day and runs through Christmas Eve. Over $140 million was raised last year.
The country music performer has received nominations for Grammy's, CMA Awards, CMT Awards and iHeartRadio Awards. His meteoric rise through the charts landed him the top spot on the all-genre Billboard 200 Album's chart. He is the first country artist to do so. Rhett joins the company of Eric Church, Luke Bryan, Pitbull, Selena Gomez and Kenny Chesney, all of which previously performing on Thanksgiving Day.
The game itself should be a win for the home team. Dallas has been looking strong ever since last season, especially with QB Dak Prescott and RB Ezekiel Elliot. Elliot will unfortunately be missing this game as part of a 6-game suspension for violating the leagues' Personal Conduct Policy, but backup Alfred Morris will pick up the load. The odds are in Dallas' favor, especially given how poor the Chargers have been playing throughout the season.
If you are interested in placing any bets on the Thanksgiving games, consider using licensed offshore sportsbooks. These online sports betting destinations will be hosting betting lines for all 3 Thanksgiving Day games. There may even be some prop bets surrounding the halftime show (this remains to be seen). For Dallas residents, these sites are the only way to bet on the Cowboys through legal and safe means. You can check out these sites for yourself without registering for an account or placing any bets.
Whether you bet on the game or not, the Chargers-Cowboys game should be another strong installment of Thanksgiving football. Rhett's performance will likely be extravagant, as they seem to try and top the previous show each year. You can help contribute to the Salvation Army's campaign online or over the phone. Information should be displayed throughout the performance.