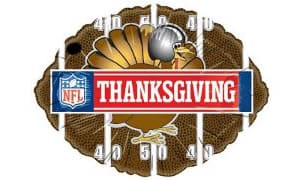 NFL action is in full swing and there have already been a number of significant headlines. Thanksgiving is one of the biggest days in the season, with 3 games slated, and it is important to keep an eye on Thanksgiving Day football teams as we draw closer to Turkey Day. This article will take a look at each Thanksgiving Day team and how they are doing so far. Just as a reminder, the NFL Thanksgiving football games are as follows:
Minnesota Vikings @ Detroit Lions – 12:30 p.m.
Los Angeles Chargers @ Dallas Cowboys – 4:30 p.m.
New York Giants @ Washington Redskins – 8:30 p.m.
Minnesota Vikings
The Vikings were off to a hot start in the season, but they just took a huge loss with star rookie RB Dalvin Cook out for the season with a torn ACL. Minnesota is currently 2-2 and third in the NFC North division. The Vikings signed free-agent RB Stevan Ridley to make up for Cook's absence. They also have RB Latavius Murray and RB Jerick McKinnon. Murray will likely be the starter with McKinnon on third-down duties. Ridley will be picking up the slack. Their offensive core previously suffered another blow with QB Sam Bradford also going down with a knee injury, even though he has no structural damage. His status is considered day-to-day. In the meantime, QB Case Keenum has been filling the gap and performing well. Their receiving core is still intact with Stefon Diggs, Adam Thielen and Kyle Rudolph leading the way. With Cook out and Bradford a question mark, the Vikings may see themselves become the underdog by the time they reach Thanksgiving against the Lions. They also just lost to Detroit 7-14 in Week 4.
Detroit Lions
The Lions appear to be capitalizing off their division rival's woes, as they sit atop the NFC North division with a 3-1 overall record. They beat the Vikings 14-7 in Week 4, which could help their momentum heading towards Thanksgiving. However, the Lions are facing a potentially huge issue with every starting linebacker, plus 3 offensive linemen, on their injury report. With their linebackers and linemen out, responsibility shifts to the backups. These injuries may not be as severe as a torn ACL or broken leg, but if not treated properly they could prove negative as the wear-and-tear of the regular season begins to take effect. QB Matt Stafford has been performing exceptionally well, and RB Ameer Abdullah already has almost 300 rushing yards on the season. If the starting offensive linemen are out for the next game, it is possible that Safford and Abdullah are limited because of the blitzing onslaught they will likely receive. Thanksgiving may be a ways away, but injuries have a tendency of sticking around.
Los Angeles Chargers
The Chargers are 0-4 and at the bottom of the AFC West. It seems like it is going to be another disappointing season for the newly relocated Chargers. They have been so bad that there have been reports of moving them back to San Diego. However, the NFL has denied any such action. TV ratings have plummeted in the L.A. area and the stadium has yet to be filled to capacity for any game this season. Their last game against the Eagles felt like a Philadelphia home game based on the amount of Eagles shirts in the stadium. At this rate, there is no doubt that they will be demolished by the Cowboys come thanksgiving.
Dallas Cowboys
Dallas is currently second in the NFC East at 2-2 and have looked well overall. They just lost to the Los Angeles Rams in Week 4, but it was a close game. Sophomores QB Dak Prescott and RB Ezekiel Elliot have picked up where they left off in their rookie season, which bodes well for the Cowboys overall. Elliot's performance is vital, especially given the pending domestic violence case. Meanwhile, Dez Bryant and Jason Witten have shown their as reliable as ever regarding pass selection. Their secondary continues to be their weak point, but the performance has not been too bad. Linebacker and safety play leaves something to be desired, but the cornerbacks are playing to par. Most of the team is healthy, especially the big-time players, which is good for their season. The Cowboys will likely roll over the Chargers on Thanksgiving Day.
New York Giants
The Giants are dead last in the NFC East at 0-4. Their biggest problem was missing WR Odell Beckham Jr. for the first couple games with injury. Since his return, he has not been effective and spoke on the team's miscues to the media. Their poor offensive line and terrible running game has left the receivers exposed, and with only one true star receiver in Beckham Jr., opposing teams know who to study. Beckham Jr. appears to have been shut out, but he and the rest of the Giants have a chance to shift momentum in their favor against the 0-4 Chargers in Week 5. If this type of play continues, they could be in for some trouble against Washington on Thanksgiving.
Washington Redskins
Washington is currently 2-2 and third in the NFC East. QB Kirk Cousins had a poor start to the season but has since turned things around. As the franchise QB, he is expected to be on point week after week. RB Samaje Perine leads the almost non-existent rushing game, leaving WR Chris Thompson, WR Terrelle Pryor Sr. and WR Vernon Davis the entire weight of the offensive load. The Redskins need to evolve their rushing aspect if they want to be truly successful, because the passing game may falter at some point in the season, especially if Cousins or any star receiver goes down with injury. Regarding Thanksgiving, the odds are that they will beat the Giants.
Bettors can look to betting sites covering the Thanksgiving Day football teams for odds and betting line information. As you can see, a lot of the Thanksgiving teams are struggling. There is still time to steady the ship before November, but injuries are hard to overcome and momentum can be difficult to swing.