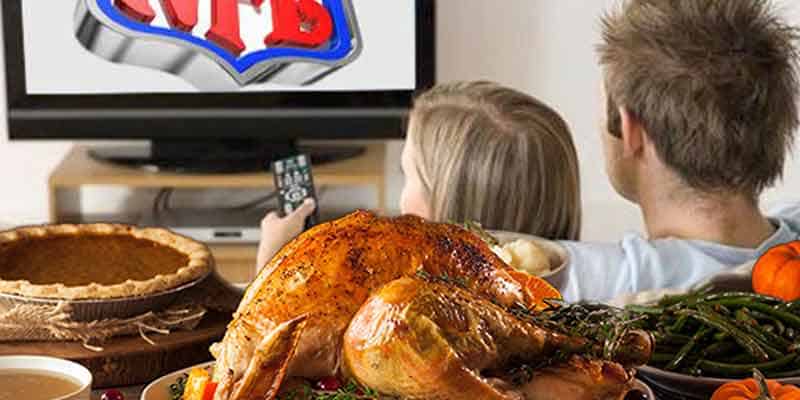 While many holiday traditionalists in the United States are routinely irritated by the distractions that NFL Football provides on Thanksgiving Thursday each year, fans of the game welcome the diversion from mundane conversations that surround the dinner table.
Gathering in the living room with double-strength paper plates full of holiday grub is much more enjoyable for all involved. NFL fans can watch the games and feign interest in the chatter occurring around them while easing into a day-long malaise brought on by ingesting too much turkey.
So, what we're prosing here at Thanksgiving Football Games is to add a fourth contest to the holiday schedule, offering a full plate of NFL action from sunup to sundown.
Fans of the Detroit Lions need not worry. They'll still be involved on Thanksgiving Thursday, but they'll be relegated to the kid's table with a 10 AM start time so that it can serve as background noise while families prepare food and relative arrive.
That early game can wrap up by 1 PM and clear the way for the Dallas Cowboys Thanksgiving football tradition to continue.
At 4 PM, the NFL should simply rematch the prior year's Super Bowl teams because the Cowboys and Lions are no threat to hoist a Lombardi on any given year.
NFL ratings are an automatic draw, especially when given an exclusive national audience. With the Super Bowl from the prior season already 9 months back in everyone's rear-view, a late-season match-up of two top franchises is certain to be a popular favorite each November.
Once that third game concludes at 7 PM, the league can grant viewers an hour to freshen up and get a plate of leftovers while the NFL analysts and talking heads cover the day's gridiron action.
At 8 PM on every single Thanksgiving Night until the end of time, or humanity, whichever comes first, the Pittsburgh Steelers should face the Baltimore Ravens.
When these two AFC North juggernauts battle, throw the record books out the window and just watch the massive hits and big plays commence, with loads of NFL betting action laid on the game to boot.
Last season's third game of the holiday between the Ravens and Steelers was pushed back several days due to COVID-19 protocols. Had the game aired at its regularly scheduled time, it had the potential to be the highest drawing prime time broadcast in the history of Thanksgiving Football.
Unfortunately, the league did not get to test that market and get an accurate TV ratings report for the Steelers vs. Ravens on Thanksgiving. Under our proposal, it wouldn't matter as the NFL can take advantage each and every season of Pittsburgh and Baltimore's intense rivalry.
The NFL should no longer tread lightly into that good night. Instead, drop an extra game onto the Thanksgiving docket and throw pro football gamblers a wishbone with flavor that'll marinate for years to come.