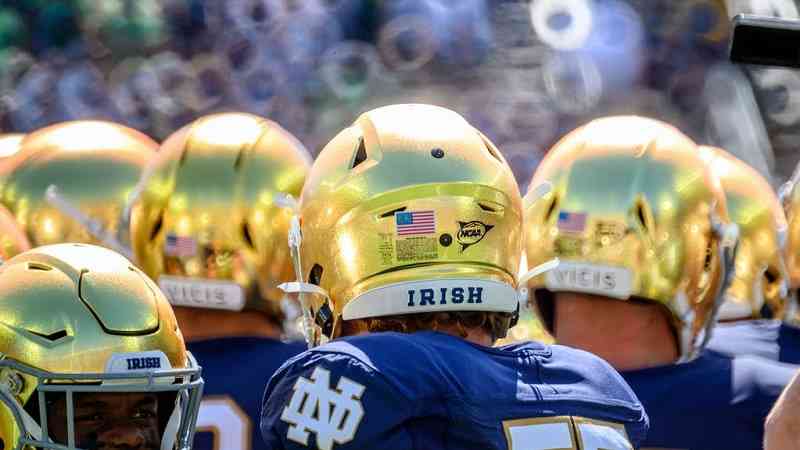 Thanksgiving weekend typically features several in-state and interconference rivalries in the realm of college football.
Florida vs. Florida State, Alabama vs. Auburn, Georgia vs. Georgia Tech, and many more collegiate rivals battle it out in the days that follow Thanksgiving, and in many cases, national championship implications are on the line.
Because of COVID-19, the 2020-21 NCAA Football schedule has been altered significantly, with many conferences simply happy to complete the season and produce some semblance of a national champion.
That has created a strange scenario that will feature some non-traditional Thanksgiving Day college football matchups.
Currently, the game that will draw the most betting action and will feature the most conference championship and national title weight will be when the 5th ranked Notre Dame Fighting Irish travel to face the 15th ranked University of North Carolina Tarheels.
Notre Dame remains undefeated and will face the number one ranked Clemson Tigers on November 7th. If the Irish can top the Tigers, then their post-Thanksgiving game against the Tar Heels could decide who goes to the ACC Championship Game in December.
North Carolina would also be undefeated if not for a shocking 31-28 loss to the Florida State Seminoles just twelve days ago.
Of course, if Carolina or Notre Dame both suffer a loss between now and Thanksgiving week, then another gridiron battle could come to the forefront.
One potential game that could increase in importance come late November is the #18 Penn State Nittany Lions vs. the 13th ranked Michigan Wolverines.
The Thanksgiving Day odds have been removed from the boards at sports betting sites due to the uncertainty that the Coronavirus poses to all future NCAA Football games on the calendar.
Sportsbooks don't want to waste time refunding bets on cancelled games, so they are keeping their cards close to their vests and only unveiling game odds within a week or two of kickoff.
Although there are no odds on the boards for turkey week games at this time, bets can be placed at Thanksgiving football betting sites on which college football team will win the 2020-21 CFP National Championship.
We won't list out all of the teams featured in the national title odds, but have included some of the top contenders that will be competing on Thanksgiving weekend.
In fact, of the teams listed, Brigham Young University is the only one without a game on the 27th.
2020-21 NCAA Football National Championship Odds
Clemson (#1) +125
Alabama (#2) +300
Ohio State (#3) +325
Georgia (#5) +1300
Florida Gators +2000
Notre Dame (#4) +4000
Michigan (#13) +5000
Oklahoma State (#6) +5000
Texas A&M (#8) +5500
BYU (#11) +6600
Miami Florida (#12) +6600
USC (#21) +6600
Wisconsin (#9) +6600
Kansas State (#16) +10000
Oregon (#14) +10000
Penn State (#18) +10000
Oklahoma (#24) +12500
Cincinnati (#7) +15000
Iowa State (#23) +15000
Minnesota +15000
North Carolina (#15) +15000
Texas +15000
Washington U +15000
Auburn +20000
If you are interested in betting on the above NCAAF Championship odds, please visit Bovada Sportsbook and have a look around at their other Thanksgiving-related odds while you are there.
There are not many betting lines that directly involve Thanksgiving weekend sports at this time, the holiday is just four weeks away, and we predict that there'll be a cornucopia of betting options appearing very soon.
Source: Miami Herald