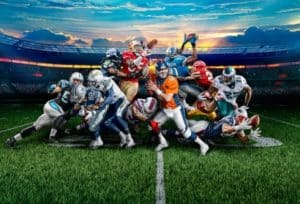 The 2017/18 NFL season is almost upon us. For now, fans and bettors alike are tuned in to preseason action to see how teams are shaping up, with a close eye on new signings and coaches. The latest batch of preseason matchups revealed several key points that will be analyzed in this article. NFL preseason is not always the most reliable indication of how things will play out—after all, new players have to adjust, everyone is a little rusty and personnel changes mean running an entirely new game plan—but it does usually highlight weak points heading into the regular season. Fans are already anticipating an exciting season and looking forward to the league's biggest events such as Thanksgiving Day football games, the playoffs and the Super Bowl.
Rams' Goff Looking Solid
The LA Rams are about to start their first season back in Los Angeles after moving back from St. Louis. Last season, rookie QB Jared Goff (#1 pick in last year's Draft) underperformed, to say the least. The Rams' front office was called into question after his poor season, and fans voiced their frustrations as well. However, Goff looked more comfortable in their 24-21 win over the Las Vegas Raiders. New head coach Sean McVay may have the strategy in place to put Goff on the right track. Goff frequently looked to Cooper Kupp, who had 6 targets with 5 receptions in the first half, and found him wide open on a play-action pass for a touchdown. Goff also targeted Gerald Everett and new signing Sammy Watkins. Goff ended up finishing the half with 14 completions on 17 attempts for a total 145 yards. Goff's underperformance combined with his clear potential could make for a surprising season for the Rams and will certainly keep the oddsmakers paying close attention as they calculate the odds for the Rams at sportsbooks covering NFL betting lines.
Lynch-Factor Ever Present With Raiders
The Las Vegas Raiders (also relocated) were one of the sleeper teams last season. QB Derek Carr led an all-star roster to the franchise's first Playoff berth since 2002. The one thing missing from their offense was a powerful running game, and the Raiders seemed to have found their answer in Marshawn Lynch. Lynch, formerly of the Seattle Seahawks, controversially retired. After a year out of the league, he announced his desire to come back and play for the Raiders. Although Lynch only had 2 carries, it is clear his dominance and ferocity are still there. Coach Jack Del Rio expressed that he never planned on having Lynch out there for long. The biggest problem for the Raiders is their defense, which carries over from last season. They gave up 24 against a weaker Rams team, so imagine what would happen against more formidable opponents.
Rodgers Utilizing New Weapons
The Green Bay Packers are already a strong team in the NFC. They did lose RB Eddie Lacy in the offseason, but their passing game is top notch, especially under QB Aaron Rodgers. The Packers signed TE Martellus Bennett in the offseason, which came as a surprise to some analysts. While some doubted how he would integrate into the offense, Rodgers was busy picking him out for their first touchdown against the Washington Redskins. Bennett provides a solid rush-block, but his TD reception showcases his threat as a short-yardage situation target, which could pay off in tight red zone scenarios. The Packers won 21-17.
Prescott Picking Up Where He Left Off
The Dallas Cowboys were another surprising team out of last season. Rookie QB Dak Prescott took over after Tony Romo went down injured. Prescott went on to have one of the best debut seasons in NFL history alongside rookie RB Ezekiel Elliot. While Elliot did not play in the Cowboys' preseason game against the Indianapolis Colts due to suspension, Prescott was incredible. He completed 4 passes on their opening drive, including a long-TD to Dez Bryant. Prescott only played for 2 drives, but managed to finish 7-for-8 for 106 yards and a touchdown—not too shabby. The Cowboys will be a solid bet in most matchups. Dallas beat the Colts 24-19. Prescott could be a powerful weapon for the Cowboys when they face off against the Chargers on Thanksgiving Day. You can see how the odds shape up at the leading sportsbooks offering betting lines on NFL Thanksgiving Day games.
Titans Could Pose Threat
The Tennessee Titans looked bright in their 34-27 win over the Carolina Panthers. QB Marcus Mariota is coming off a broken leg last year, but he still managed to finish 6-for-8 for 61 yards and a touchdown. RB Derrick Henry also had a nice run resulting in a touchdown, but he likely won't get to start over Demarco Murray. In any case, the Titans look to have depth and a QB that is back in action.
These are just a few tidbits coming out of the preseason. Keep an eye on your favorite teams to see what appears to be working and what needs some readjustments. The 2017/18 season will be interesting, given the fact there are more competitive teams, but nothing is for certain until the regular season gets underway.