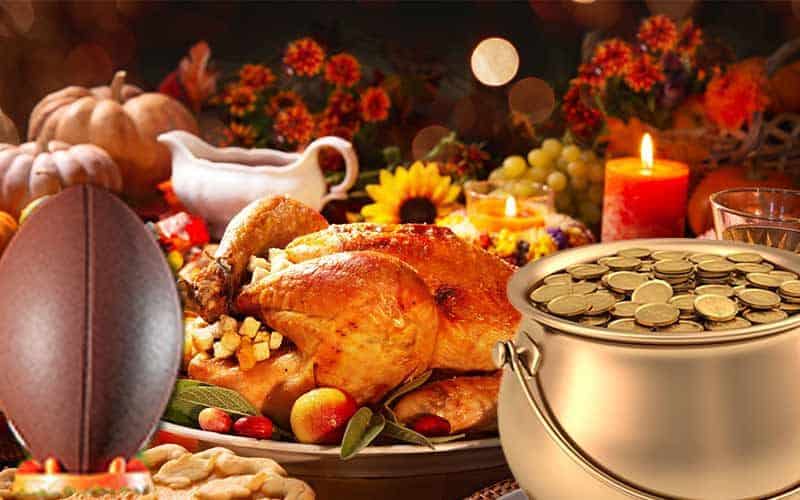 Many of the NFL betting sites that we recommend for placing a wager on Thanksgiving Day pro football games are cooking up special promotions to entice new members to join.
BetOnline has jumped into the Thanksgiving NFL promotional arena with two webbed feet and is offering up two chances to bring home $10,000 in holiday spending cash by correctly predicting the outcome of Thursday's games.
To become eligible for these two contests, bettors must be a member of BetOnline Sportsbook, and must have previously wagered at least $25 on standard, single-game sports bets.
That means that betting action would need to entail the over/under, money line, or point spread, and cannot include parlays, teasers, or any other combination wagers.
Bettors that are already members at BetOnline and have already wagered at least $25 on sports in the past can simply log in and submit your Thanksgiving NFL predictions now.
Free Entry $10,000 Thanksgiving Parlay
While you're cruising the Thanksgiving NFL betting lines at BetOnline Sportsbook, go ahead and enter your picks for their $10,000 Thanksgiving Parlay contest and win big.
Contestants must predict the point spread winner and correct over/under for each of the three Thanksgiving NFL games. The winner will receive a cash prize of $10K, and it will be split among the winners if multiple people guess correctly.
All picks need to be entered no later than kickoff for the Houston Texans vs. Detroit Lions game at 12:30 pm ET.
$10,000 Thanksgiving Score Predictor
BetOnline's second $10,000 Thanksgiving promotion involves predicting the correct score of the Thursday Night Football game between the Baltimore Ravens and the 10-0 Pittsburgh Steelers.
This AFC North battle already has all the marbles on the line, so why not get in on the action and take home a large payday yourself?
Predicting the exact score that each team will produce is no easy task, and that is why BetOnline is awarding $10,000 to the person who is savvy enough to lock in on the correct outcome.
Once again, if there is more than one winner, the grand prize pot will be split equally amongst them, and isn't that what Thanksgiving is all about?
Predicting the outcomes of NFL games and placing bets on those theories is incredibly risky with high potential for loss, but these offers are completely risk free and can reward bettors without putting up any of their own bankroll.
It's just one of many ways that BetOnline takes care of its members. They routinely offer bonus promotions throughout the calendar year, but we rarely see contests this good with absolutely no risk involved.
Be sure to take part in these free offers from BetOnline and maybe you'll stuff your online bankroll while stuffing a roll into your gullet this Thanksgiving.